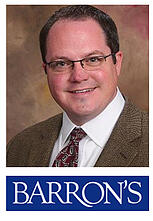 Bill Sukup of the Wealth Enhancement Group Woodbury, MN office has been recognized in the 2019 "Top 1200 Financial Advisors" ranking by Barron's, a leading weekly financial magazine. This is the seventh consecutive year that Mr. Sukup has been included on the list.
Further details are as follows:
Bill Sukup, #21 in Minnesota
CEO of Wealth Enhancement Group Jeff Dekko said, "It is with great pleasure that I announce Bill Sukup's seventh consecutive appearance on Barron's Top 1200 Advisors list. He has consistently shown a commitment to living the Wealth Enhancement Group values of teamwork, compassion, clarity, drive and integrity, and his team is exemplary in terms of supporting their clients and their community."
Rankings were presented on a state-by-state basis and were compiled using a range of performance and community service-based criteria including assets under management, revenue produced for the firm, regulatory record, quality of practice and philanthropic work. Investment performance was not an explicit component of the evaluation criteria.
About Barron's
Barron's is a premier financial magazine, renowned for its market-moving stories. Published by Dow Jones & Company since 1921, it reaches an influential audience of senior corporate decision makers, institutional investors, individual investors and financial professionals. With new content available every week in print and every business day online, Barron's provides readers with a comprehensive review of the market's recent activity, coupled with in-depth, sophisticated reports on what's likely to happen in the market in the days and weeks to come. The Barron's list of America's Top 1200 Financial Advisors is based on assets under management, revenue produced for the firm, regulatory record, quality of practice and philanthropic work.
About Wealth Enhancement Group
Wealth Enhancement Group is a Greater Minneapolis-based independent wealth management firm offering comprehensive and customized financial planning and investment management services nationwide. Established in 1997, Wealth Enhancement Group uses a team approach with a focus on simplifying their clients' financial lives and has 21 offices in Minnesota, Iowa, Wisconsin, Illinois, Connecticut, New York, Pennsylvania, Texas and Florida.
Topics
Whether you're approaching retirement and are just now starting to think about your financial plan, or if you already have an advisor but want to explore your options, we're here to help.
Related Posts
Vince Cimino Recognized on Barron's Top Advisors List for Sixth Time
Vince Cimino, CFP®, MBA, of the Wealth Enhancement Group Clinton, WI office has been recognized in...
Read More